ZamZam Services
At ZamZam Hajj and Ummrah, we want you to have the most memorable and wonderful experience performing an action to worship Allah swt. Whether applying for ummrah or Hajj, we will ensure it's a "Journey of a Lifetime".  Zamzam Hajj Group is led by well known & respected Mashayekh, brothers and sisters from Sydney, Australia. Our Hajj Guides have extensive experience and knowledge of Hajj rituals and have taken many Hajj groups over the years.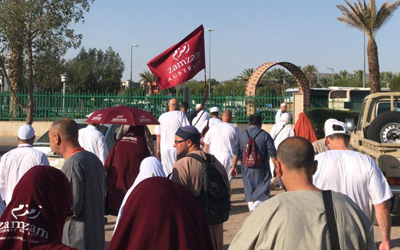 1. Visa Application
We will ensure to assist and guide you through the entire visa approval process. We will communicate with the embassy when required to help make the process very seamless for you.
We'll take care of the whole process.

2. Flight Bookings
As part of our service, all flight booking to Hajj and back will be organised for you. ZamZam Hajj and Ummrah can also organise any stopover of your choosing at an extra cost.
Pack your bags and meet us at the airport.

3. Hajj Preperation Course
Some people come to Hajj and Ummrah with the sole intention to change their lives. So preparing a hajj crash course to understand why and how things are done is very crucial. At ZamZam, we will provide you with various items such as bags, Ihram clothing, Hajj guide books and Journal.
Beneficial Knowledge to complete Hajj.

4. Accomodation
We aim to make your experience a memorable one. In Makkah and Madinah, the accommodation is minutes walking distances from the Haram. Experience the prayers and hearing the adhan coming directly from the masjid. Something you will never forget.
Right at the doorsteps of the Haram.

5. Food
Staying at the hotels and experiences in the hajj is one thing, the food will be part of the entire experience. All you can eat Buffet Breakfast and Dinner will be included as part of the accommodation.
All you can Eat Breakfast and Dinner Buffet!
6. Transport
All transfers from Airport to hotels and back, including travel to Makkah from Madinah, Tours and Travel to complete Hajj rituals will be included in your package.
Ride in comfort and ease.

7. Tours
During this time, we experience the paths that the Prophet(pbuh) and his companions travelled. Tours are organised to help in understanding and learning more about our Islamic History and Religion.
Experience Islamic History at amazing locations
"Accepted Hajj has no
reward but Paradise"
(Al-Bukhari and Muslim)